12 nomination per Uncharted 3 agli Interactive Achievement Awards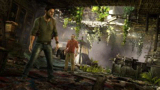 Il titolo di Naughty Dog è il più gettonato. La cerimonia di premiazione si svolgerà il 9 febbraio a Las Vegas.
di Davide Spotti
pubblicata il
13 Gennaio 2012
, alle
17:01
nel canale
Videogames
La Academy of Interactive Arts and Sciences ha reso nota quest'oggi la lista delle nomination in vista dei prossimi Interactive Achievement Awards. Uncharted 3: L'Inganno di Drake è lizza per ben dodici riconoscimenti, tra cui Game of the Year. La concorrenza appartiene ai soliti noti dell'anno che si è appena concluso, ovvero Batman: Arkham City, The Legend of Zelda: Skyward Sword e The Elder Scrolls V: Skyrim.
Uncharted 3 riesce a fare meglio di Red Dead Redemption, che lo scorso anno ottenne la nomination per nove differenti premi, ma rimane dietro ad Uncharted 2: Among Thieves, che nel 2010 si accaparrò ben 15 nomination e riuscì a prevalere in 10 categorie.
Portal 2 concorre per dieci nomination, mentre L.A. Noire segue a quota nove. Gli altri titoli ad essere presenti in almeno tre categorie sono Battlefield 3, Batman: Arkham City e Skyrim, con sei nomination ciascuno.
Sul versante dei publisher Electronic Arts è davanti a tutti con 21 nomination. Sony, grazie al capolavoro di Naughty Dog, si erge in seconda posizione con 18 nomination complessive, mentre Microsoft è a quota 13.
La quindicesima edizione degli Interactive Achievement Awards si terrà il 9 febbraio presso il D.I.C.E. Summit di Las Vegas.
Game of the Year
Batman: Arkham City--Rocksteady Studios
Portal 2--Valve
The Elder Scrolls V: Skyrim--Bethesda Game Studios
The Legend of Zelda: Skyward Sword--Nintendo
Uncharted 3: Drake's Deception--Naughty Dog
Outstanding Achievement in Original Music Composition
L.A. Noire--Team Bondi
Little Big Planet 2--Media Molecule
Uncharted 3: Drake's Deception--Naughty Dog
InFamous 2--Sucker Punch
Portal 2--Valve
Outstanding Achievement in Sound Design
Battlefield 3--DICE
Call of Duty: Modern Warfare 3--Infinity Ward/Sledgehammer Games
L.A. Noire--Team Bondi
Need for Speed: The Run--EA Black Box
Uncharted 3: Drake's Deception--Naughty Dog
Outstanding Achievement in Story
Bastion--Supergiant Games
L.A. Noire--Team Bondi
Portal 2--Valve
The Elder Scrolls V: Skyrim--Bethesda Game Studios
Uncharted 3: Drake's Deception--Naughty Dog
Outstanding Character Performance
Deus Ex: Human Revolution (Adam Jensen)--Eidos Montreal
L.A. Noire (Cole Phelps)--Team Bondi
Portal 2 (Wheatley)--Valve
Uncharted 3: Drake's Deception (Nathan Drake)--Naughty Dog
Uncharted 3: Drake's Deception (Victor Sullivan)--Naughty Dog
Downloadable Game of the Year
Bastion--Supergiant Games
Drawn: Trail of Shadows--Big Fish Games
Insanely Twisted Shadow Planet--Fuel Cell
Ms. Splosion Man--Twisted Pixel Games
Orcs Must Die!--Robot Entertainment
Casual Game of the Year
Fruit Ninja Kinect--Halfbrick Studios
Tiny Wings--Andreas Illiger
Jetpack Joyride--Halfbrick Studios
Monsters Ate My Condo--Adult Swim/PikPok
Where's My Water?--Creature Feep
Social Networking Game of the Year
Army Attack--Digital Chocolate
CastleVille--Zynga
Gardens of Time--Playdom
The Sims Social--Playfish
Triple Town--Spry Fox
Role-Playing/Massively Multiplayer Game of the Year
Dark Souls--From Software
Deus Ex: Human Revolution--Eidos Montreal
Star Wars: The Old Republic--BioWare Austin
The Elder Scrolls V: Skyrim--Bethesda Game Studios
The Witcher 2: Assassins of Kings--CD Projekt
Outstanding Innovation in Gaming
Bastion--Supergiant Games
L.A. Noire--Team Bondi
Portal 2--Valve
Skylanders Spyro's Adventure--Toys for Bob
The Elder Scrolls V: Skyrim--Bethesda Game Studios
Sports Game of the Year
FIFA 12--EA Canada
Madden NFL 12--Tiburon
MLB 11: The Show--SCE San Diego
NBA 2K12--Visual Concepts
NBA Jam: On Fire Edition--Firemint
Racing Game of the Year
Forza Motorsport 4--Turn 10 Studios
Mario Kart 7--Nintendo
Real Racing 2 HD--Firemint
Fighting Game of the Year
Fight Night Champion--EA Canada
King of Fighters XIII--SNK Playmore
Mortal Kombat--NetherRealm Studios
Super Street Fighter IV: 3D Edition--Capcom
Ultimate Marvel vs. Capcom 3--Capcom
Strategy/Simulation Game of the Year
Iron Brigade--Double Fine
Orcs Must Die!--Robot Entertainment
Total War: Shogun 2--The Creative Assembly
Toy Soldiers: Cold War--Signal Studios
Warhammer 40,000: Dawn of War II - Retribution--Relic Entertainment
Family Game of the Year
Dance Central 2--Harmonix
Just Dance 3--Ubisoft Paris
Kinect Disneyland Adventure--Frontier Developments
Little Big Planet 2--Media Molecule
Skylanders Spyro's Adventure--Toys for Bob
Mobile Game of the Year
Contre Jour--Chillingo
Dead Space--EA Mobile
Infinity Blade II--Chair Entertainment
Tentacles--Press Play
The Dark Meadow--Phosphor Games Studio
Handheld Game of the Year
Ghost Trick: Phantom Detective--Capcom
Kirby Mass Attack--Hal Laboratory
Mario Kart 7--Nintendo
Professor Layton and the Last Specter--Level 5
Super Mario 3D Land--Nintendo
Adventure Game of the Year
Batman: Arkham City--Rocksteady Studios
L.A. Noire--Team Bondi
Portal 2--Valve
The Legend of Zelda: Skyward Sword--Nintendo
Uncharted 3: Drake's Deception--Naughty Dog
Outstanding Achievement in Online Game Play
Battlefield 3--DICE
Call of Duty: Modern Warfare 3--Infinity Ward/Sledgehammer Games
Gears of War 3--Epic Games
Little Big Planet 2--Media Molecule
Star Wars: The Old Republic--BioWare Austin
Outstanding Achievement in Connectivity
Battlefield 3--DICE
Call of Duty: Modern Warfare 3--Infinity Ward/Sledgehammer Games
Dragon Age II--BioWare Edmonton
Portal 2--Valve
Uncharted 3: Drake's Deception--Naughty Dog
Action Game of the Year
Battlefield 3--DICE
Call of Duty: Modern Warfare 3--Infinity Ward/Sledgehammer Games
Dead Space 2--Visceral Games
Gears of War 3--Epic Games
Saints Row: The Third--Volition
Outstanding Achievement in Animation
Assassin's Creed: Revelations--Ubisoft Montreal
Batman: Arkham City--Rocksteady Studios
L.A. Noire--Team Bondi
Rayman Origins--UbiArt Montpellier
Uncharted 3: Drake's Deception--Naughty Dog
Outstanding Achievement in Art Direction
Batman: Arkham City--Rocksteady Studios
Battlefield 3--DICE
Portal 2--Valve
Rayman Origins--UbiArt Montpellier
Uncharted 3: Drake's Deception--Naughty Dog
Outstanding Achievement in Visual Engineering
Batman: Arkham City--Rocksteady Studios
Crysis 2--Crytek GmbH
L.A. Noire--Team Bondi
Rage--id Software
Uncharted 3: Drake's Deception--Naughty Dog
Outstanding Achievement in Game Play Engineering
Batman: Arkham City--Rocksteady Studios
Portal 2--Valve
Skylanders Spyro's Adventure--Toys for Bob
The Elder Scrolls V: Skyrim--Bethesda Game Studios
The Legend of Zelda: Skyward Sword--Nintendo
Outstanding Achievement in Game Direction
Batman: Arkham City--Rocksteady Studios
L.A. Noire--Team Bondi
Portal 2--Valve
The Elder Scrolls V: Skyrim--Bethesda Game Studios
Uncharted 3: Drake's Deception--Naughty Dog